I cannot believe I am going to show you this.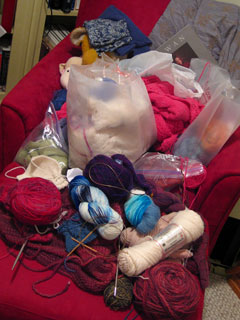 This is my I'll-get-around-to-this-on-the-sixth-Sunday-of-the-month pile. Also, known as the dear-knitting-gnomes-I-will-pay-anything-to-make-it-go-away pile.
Somewhere in there are WIPS that whisper their sorry state of neglect to me at 2 AM. There is a design idea or two gone horribly wrong. Forgotten yarn adds their mantra to the WIPs. There might be a few project leftovers hanging about – too small to be used on their own but too large to be tossed without regret.  Even a childhood stuffed toy bear is buried under all that best of intentions.
But like any mountain, I'm going to move it one shovelful at a time.  I'll probably start with a WIP. I could use the sleep in the early morning hours.
How do you wrangle your stash and UFO's when they get out of control? Better yet, how do you stop it from getting this bad?