I have spent much of my weekend cleaning house.  More appropriate would be to say I've been clearing out my house.  Closets, drawers, behind the furniture, shelves, and cabinets.   No place was safe from being emptied, purged, and organized.  I now know why I am always running out of work clothes by Thursday.  While my closet was stuffed beyond capacity, it was stuffed with clothes that harbored a desperate hope that I would once again have my teenage waistline many sizes too small.  And that was just the start.
I have also done some mental cleaning house as well.  As is often the case, one makes a decision with expectations of a certain outcome.  However, the result rarely meets expectations exactly.  Sometimes it is better, sometimes worse, but almost always different than the intended vision.  Such is the case with my decision so long ago to sell patterns wholesale only.  For reasons too long and convoluted to detail in a single post, I am beginning to offer patterns by download in addition to wholesale.  Not that I want to deny you a post that would rival War & Peace in length, but I still have to clean under the beds and tackle the paper mountain that is our computer desk.  I have priorities and sleeping sometime between now and going to work tomorrow is one of them.
Over the future days, or if I'm truthful weeks, I'll be adding more "add to cart" buttons to more patterns.  But for today, I've begun with these.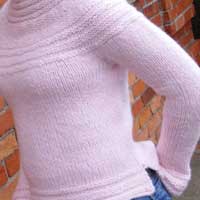 Bois Blanc
Split hem and welted details make this a fun sweater to wear. While virtually no finishing and bulky weight yarn make it a quick piece to knit. The pattern is sized from 34.5" to 50.25". Knit in the round with bulky weight yarn and US 10.5 (6.5mm) needles.
Click here for more details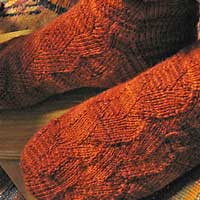 Woven Waves
Toe-up socks with an easy to memorize and fun to knit stitch pattern. The unique gusset placement on the sole of the sock adds interest without changing the overall fit of the sock. The pattern is written for double point needles and the two-circular method. The socks are worked with US2 (2.75mm) needles and fingering weight yarn.
Click here for more details.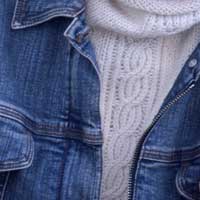 K.I.S.S. (Keep It Simple Scowl)
A great accessory for the cold winter months, this combination cowl and scarf knits up quickly. Since the skill level is for an advanced beginner, it is a wonderful pattern for all knitters. One size fits all, it uses approximately 220 yds (200 m) of DK weight yarn and a US 5 (3.75mm) 16? circular needle.
Click here for more details.
In the meantime, I hear a dust bunny calling my name in the spare bedroom.