Work, both day job and knitting, has kept me really busy.  But, I found time to finish my dad's socks.  Of course, they would have been off the needles a long time ago if it weren't for the knitting gods having a good laugh at my expense gauge problems and miscalculation of his foot size.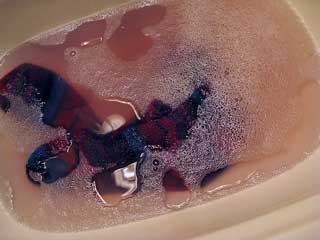 I don't normally block socks.  After all, my feet work just fine to stretch them into the proper shape.  However, as these don't fit me and Caesar has been shedding all over, I mean gaurding them are a gift, I gave them a quick bath and a light blocking.  I'm glad I did.  The amount of red dye that exhausted from the yarn was amazing.  I know that red dye never really exhausts but this was still more than I expected.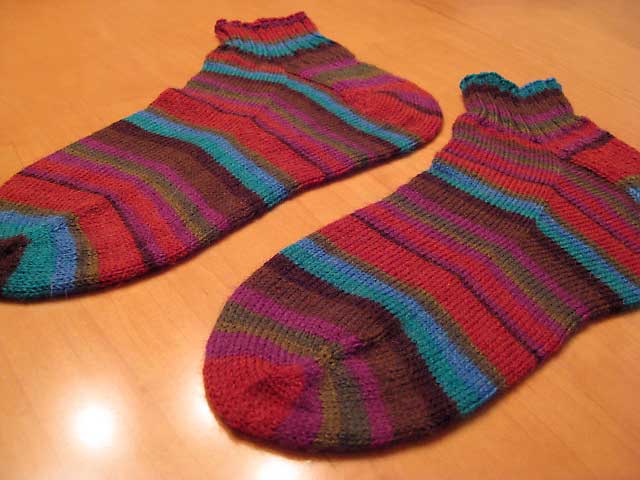 Pattern: None, just a standard toe up plain stockinette sock with a short ribbed cuff.
Size: Mens shoe 11.5 wide
Yarn: Regia Kaffe Fassett color#4259
Needles: Magic loop, US 1.5 (2.5mm) – 40″ circular
Notes: I originally started these with the intent of following the riverbed style from Cat Bordhi's new Pathways book. However, I found that the way she constructs the gusset gives the socks a little too much room in the arch to fit my dad well. When I had to start them a second time, I decided the traditional construction would work better.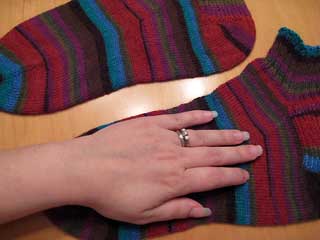 Just in case you were wondering how wide an 11.5 wide foot really was.