When I attend fiber festivals, I have a hard time resisting . . . roving.  Well, the yarn too, but roving?  I don't spin.  I don't want to.  However, I really want the roving.  I love the colors, the softness, and the endless possibilities of gauge, color, and twist.
When a friend offered to spin for me in return for my knitting, I didn't think twice.   She will spin my roving for me and I will knit with her yarn.  My very own hand-spun without learning how to spin, buying a wheel, spinning the fiber, and another addiction taking over the house the work!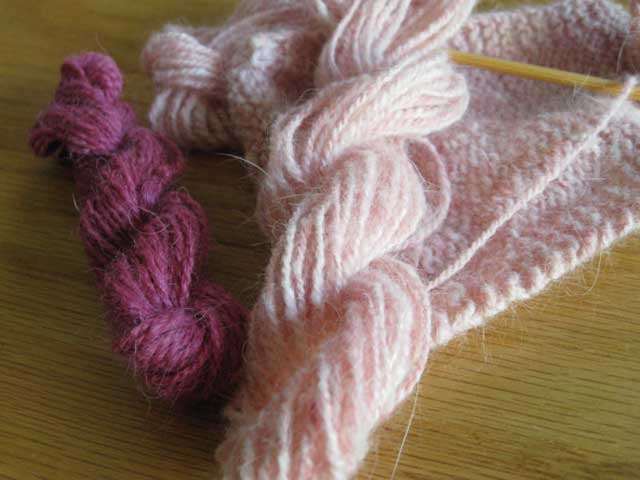 A sample of what will be my yarn is the little skein on the left – alpaca, merino, and silk in a lace weight.  It apparently spins like butter.  I read somewhere that butter is a technical term for fun to spin.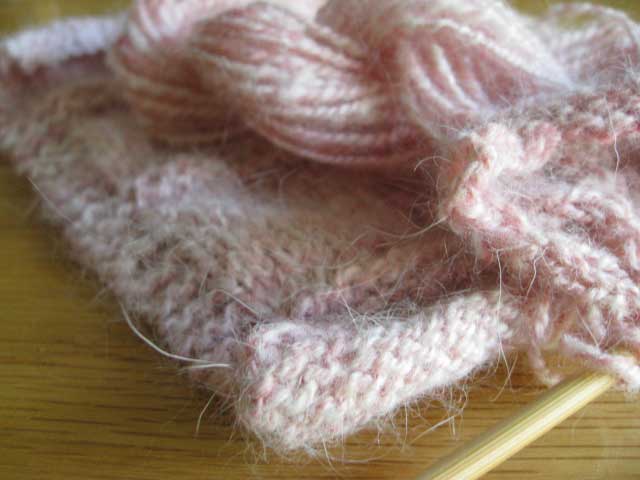 Her yarn is made of wool-angora blend and spun in a fingering weight.  It is a pleasure to knit. The bunny hairs that escape the twist and provide a nice halo to the yarn are an endless source of fascination to me as well.  Now to start swatching for lace patterns to work into a shawl.