Warning: This post is long.  However, I hope I am able to both entertain and enlighten about the thought process behind my shawl design. More over I hope that makes up for my wordiness.   I also hope this may inspire someone else to persevere when they design something of their own.
I am anxiously willing the universe to bend to my will and deliver an email waiting for an email from Ailsa telling me that yarn is in hand.  Not that there is anything we can do but pace, twiddle thumbs, pace some more, and open the mailbox 500 times daily to see if a big package was overlooked but wait.  We are dependant on the postal services of her country and mine. 
I mailed the yarn, all 24 ounces of it, two Mondays ago.  However, it was only this recent Saturday night that I finished the last swatch for the shawl.  Even though I have casted my shawl off, there were some details that I felt could be better.  So I swatched some more, rewrote charts, and now we wait.  Unless Ailsa says screw it to the waiting and casts on anyway.  I wouldn't blame her in the least.
On Sunday I organized as best I could all the swatches that ultimately led to the finished project.  I have a swatch with no chart. Apparently that chart must have been such crap I could no longer allow it in the house.  I have charts without swatches.  They aren't the finished charts, so perhaps those swatches hit the road for a better gig.  I have some swatches that clearly show I had no clue what I was doing.  I am still not sure if I have a clue or if I am incredibly lucky.  I have swatches that are painted.  They weren't painted for color but for technique.  I discovered I have none.  I have zero swatches that came out right the first try.  Proof that practice does make perfect.
Here is how I started…
The beginning of the shawl starts at the neck and represents the bottom of a peacock's fan.  The small scallops that lay along the bird's back.  Three swatches, two excel files, and eighteen pieces of graph paper later, I had figured out the first few inches.  I had also figured out that I was going to need more yarn and I hadn't even casted on for the real thing yet.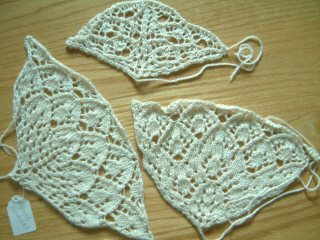 The first (top) was tooo lacy, the second (lower right) tooo awkward in the increases, the third (lower left) was almost right.  Before you think you've fallen into a story about Goldilocks, a fourth post shawl swatch improved a minor detail that bugged me alot and that no one else would ever have noticed.
Immediately after the scallops comes a row of "eyes".  Inspite of all the classes about how increases and decreases shape knitted fabric, I was completely inept at figuring out how to make my knitting round.  Ok, I wasn't inept just a little arrogant.  I thought I knew everything I needed to know. They say pride comes before a fall.  It apparently comes before ugly as well.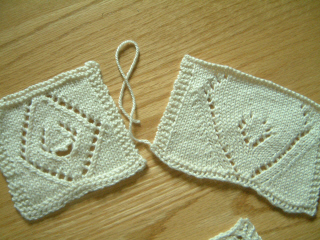 Having a little humility knocked into me by the lace gods, I looked at what others had knitted before me.  I found atleast five different stitch patterns that created round knitting.  What might have been a fatal blow to the completion of the shawl was avoided.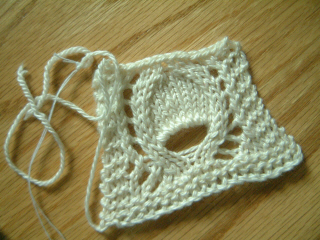 To me, this actually looks like the olive leaf crown that the ancient Romans wore.   I fixed it, a few more swatches later.
Every peacock feather also ends with an "eye" but is surrounded by other feathers of different lengths that look like Vs.  Three more swatches finally got the blending right.  At this point, I was also beginning to believe that three was my magic number.  Never two swatches, or five.  Always three.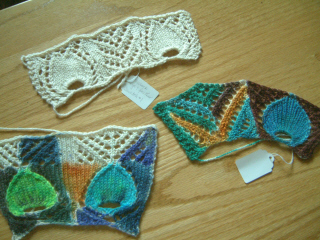 No technique at all in the painting.   I glopped it on like a five year old with finger paints.  For all of you who thought I should pursue a handpainted shawl, let's be grateful that I didn't.  I'm not against it but I think no further evidence is required to agree that I shouldn't mix shawl and dye without more practice.
After months of swatching, ignoring, thinking, debating, ripping, charting, erasing, and knitting, I neared the end.  The fan of a peacock ends with wide, flat triangles.  It had been awhile since my Grand Eye Swatch Debacle.  Sometimes I have to be struck down twice.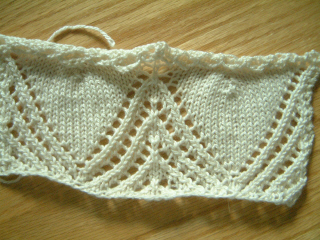 My first attempt reminded me less of T-feathers and more of an upside down bikini top.  Turn your monitor over and see for yourself or click here.
Once again, I dutifully scoured my books that I should have consulted beforehand.  My ever patient husband was subjected to numerous pictures and forced to opinionate on what looked more realistic.  Three swatches later, two pre-shawl and one post, I had charted T-feathers.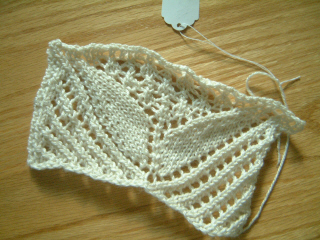 I was also getting smarter in  my use of swatches.  This has two different designs in one swatch.  The left side is more like a flower and the right is more like a T-feather.
Now I wait.  And pray that one of the missing swatches didn't run off with a critical note that prevents Ailsa from knitting a shawl of her own.