I've mentioned before that strange things can be overheard around my home when yarn arrives.  A recent shipment from the Loopy Ewe was no exception given the following:
"You got a package in the mail from a crazy sheep. I'm taking a huge leap and guessing yarn."
Hubby:"I think now is a good time to talk about my fishing budget.  You won't be able to argue because I just saw the bill."
Me: "Not my fault. Cashmere isn't cheap."
Hubby: "Cashmere, shashmere. Let's talk fish."
"Let me know when you're coming off your high and I'll start the grill.  I don't want to interrupt the buzz with dinner."
Me: Guess what they named this colorway?
Hubby: Trout?
Me: Does this look like a fish to you? It's Paris.
Hubby: No, but it doesn't look like Paris either.  Are they running out of names?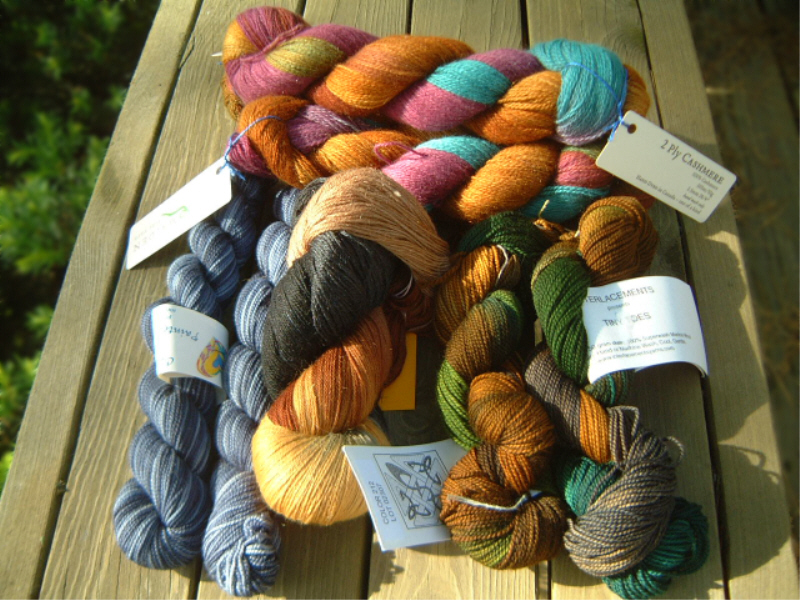 *Starting in the lower left corner counter-clockwise: Antique Jeans  – fingering Claudia Handpaint, Zoot Suit – Shafer Anne, Woodland – Interlacement Tiny Toes, Paris – Handmaiden Cashmere